AND HELP WITH OUR MISSION OF CREATING A WORLD WITHOUT WASTE
Join our inclusive team!
It's a fun, easy way to connect with your local community, build the sharing economy, reduce waste, help the planet as well as share and learn new skills. We're looking for enthusiastic people with diverse skills, to volunteer as librarians, fixers and menders, event hosts, people with administration skills and web techie people, or [insert your idea here].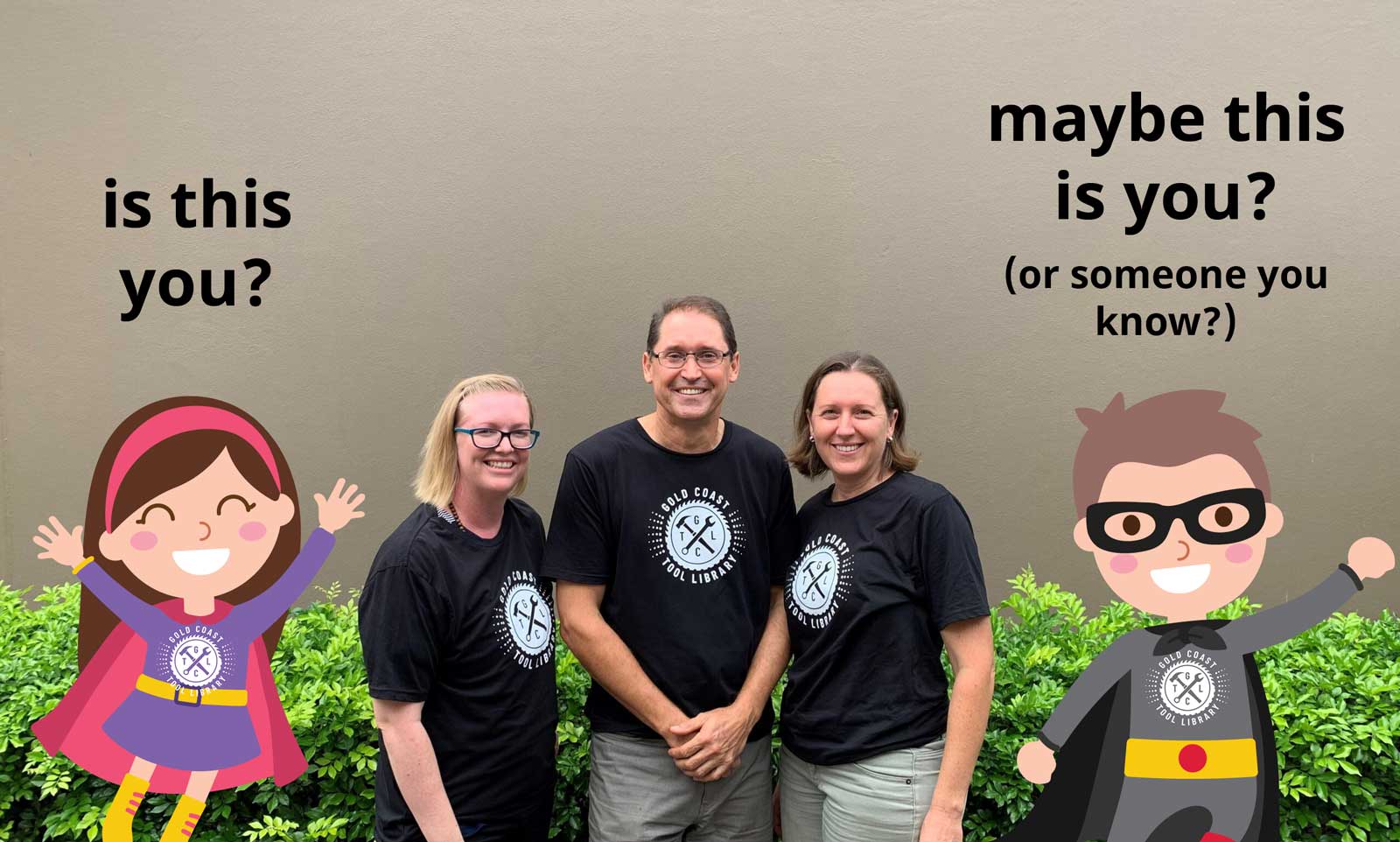 We value your input and time
Currently we are looking for enthusiastic volunteers to assist the existing team with the follow tasks. All of these can mostly be completed at home in your own time when you have time to spare. Many hands make light work and we only ask for you to give the time that suits your situation.
Do any of these roles sound like something you can help with?
Donation Ninja
Do you like following the free to good home section on Gumtree or social media, or are you networked in your community? Could you write emails and make phone calls to potential donors and groups? Building our inventory is reliant on community donations of unwanted gear in good condition and we require people with the time to keep their ear out and eyeballs in the right place at the right time.
Online Inventory Star
The library inventory is managed by a cloud based software called MyTurn. We require people to photograph the items, upload them to the catalogue and enter descriptions. It is a user friendly system and if you like being organised, this is the role for you. 
Grants Seeker
Could you help finding the appropriate grants that are applicable to our NFP? Help in writing applications would also be wonderful, however first up we require a team member with some time to search and filter. Some limited experience in the grants space will be beneficial or the willingness to learn.
Story Teller & Media
We need help in telling our story in an engaging way. We have a lot of dot points, now we need help in stringing it all together to share our vision of how great these community initiatives can be.
Electrical Test & Tagger
We receive a variety of electrical items donated to the library and all of these need to be Test and Tagged by a qualified person before they can be loaned. Do you have the required licence and some spare time to assist on a Saturday morning?
Administration Guru
In any start up there is always the systems and processes that need to be put in order. Additional help in this area is required which will also require some research and fact finding. This is the perfect work from home role and fits in around your current commitments.
Social Media Master
Are you a wizz on Instagram and Facebook? Do you have some creative and graphic design skills? Some additional assistance here would be appreciated.
Tool Repairer
We are currently receiving donations of tools and these need to be looked over, tested and checked to be in a safe and good working order. This is especially the case with electrical power tools and we need a volunteer with the relevant experience who can give these items the once over and check their safety and suitability, as well as give them some maintenance.
We currently have the following opportunities available and looking for enthusiastic people to join our team on a regular basis:
Librarians
Welcome members to the library and assist them to find and borrow the right item for their needs, check goods back in and generally keep the library in good working order whilst sharing a tea or coffee and a chat.
Event Hosts and Repair Cafe Menders and Fixers.
Welcome visitors to our events and help the day run smoothly. Fixers and Menders perform the repairs with the items owner.
Volunteer Coordinator
Our volunteers are our life blood and they require a special person to support them in our inclusive and welcoming space.
Workshop Presenters
Present a workshop on making, mending, repairing and sharing.
You can help us!
We need amazing people like you to help us build all aspects of this community-run endeavour.