JOIN US TODAY AND START BORROWING
Purchase your membership now online!
You can easily and securely sign up as a member right now and join the sharing economy. Or drop by and visit us on a Sarurday morning and talk to the team to find out more. 
Once you have joined and paid your fees online, you will be able to browse the inventory online and easily reserve the items you wish to borrow, up to 45 days in advance. These reserved items will be waiting for you to collect from our central location of 201 Ron Penhaligon Way, Robina.  Or if you prefer, you can wander in and browse through our range and borrow what takes your fancy in the moment. We are open on Saturday morning between 8:30am to 11:30am. You can borrow up to 5 items each and every week with a standard loan length of 7 days.
We offer three types of annual membership so there is one just right for you, and all funds go back into supporting our sharing community and events. We also have Gift Memberships available so you can treat someone to 12 months of borrowing a great range of useful gear.
Concession
Valid Concession card holders and Students 18+
$50 per year.
Everyone
We welcome everyone 18+ to join the Gold Coast's first Tool Library
$75 per year.
Charities and NFP's
Fellow NFP's can also enjoy the benefits of a sharing library
$125 per year
How do I join and start borrowing?
Choose your membership type
Sign up online – it's easy and secure
Pay your annual fee
Agree to the borrowing terms and conditions (see below)
Get ready to start borrowing
As a NFP all funds go towards operating the library.
Our inventory is always growing and changing as new items are donated by the community. Browse the online catalogue and plan your next activity. Is it a tool for some renos, a tent to go camping, or some gear for your upcoming party?
Reserve the items you wish to borrow, then visit us to collect.
Pick Up and Enjoy
Visit the library during opening hours and browse or collect your reserved items.
Borrow up to 5 items for 7 days. Extend for a second week if items are available. That's 5 items each week if you're keen.
Additional items above 5 in any individual week can be borrowed for an extra fee of $5 per item.
Return and Repeat
At the end of your loan period bring your borrowed items back in a clean and tidy condition to the library during opening hours.
Returning on time makes for a better experience for all members, and you will avoid us shaking the late fee jar in your direction 😉
Simple as that and now you're ready to borrow again.
Often described as a Library of Things
Tool libraries also lend camping gear, sporting equipment, gardening tools, musical instruments, craft and artist tools, surfboards and SUPs, outdoor games, event and party equipment and sewing machines. The list is endless and is guided by what the community would like to see, in their lending library.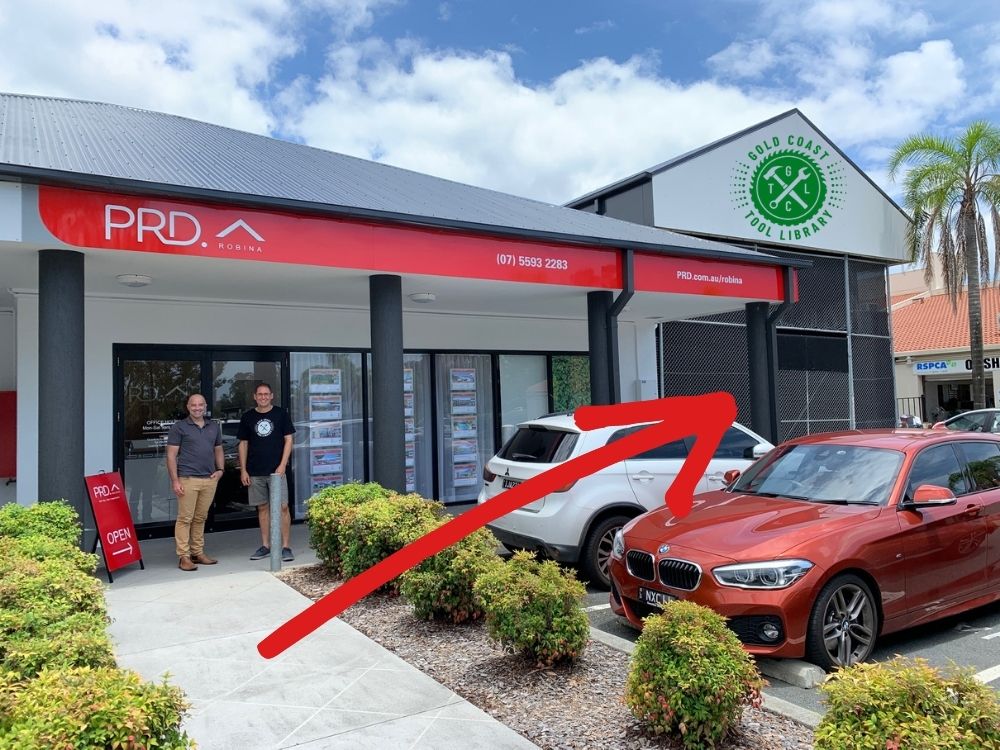 Where to find us.
Thanks to our generous and supportive partners, PRD Robina have provided the use of the space next door to their offices at 201 Ron Penhaligon Way, Robina. Centrally located and easily accessible with ample parking space by the door.
10 minutes by car to Broadbeach, 11 minutes to Burleigh and 14 minutes to both Southport or Nerang. The location is also serviced by bus routes 747 and 752 with a bus stop close by.
If you have been on the Coast for a while you would remember this was previously a hardware store which we feel is rather fitting. PRD Robina are situated next door to Robina Shopping Village which hosts a variety of stores and a bakery with delicious treats.
Are you ready to join the Gold Coast Tool Library and start borrowing tools and gear? Yes? great to hear and welcome to the sharing economy. Click on the Join Now button below and we look forward to meeting you.
Gift memberships now available
Give the gift of sharing with a 12 month membership to the Gold Coast Tool Library.
Why gift just one item when you can give them access to borrow hundreds of different items. Maybe they want to try surfing, ride a unicycle, go camping or do some DIY creative projects. With the right tools for the job you can make that possible.
Is there someone in your life that is next to impossible to buy for? Do you have an eco conscious friend who is always saying "don't buy me anything, we waste too much stuff"? Well a gift membership to the Gold Coast's first sharing platform of things could be your answer.
Gift memberships available via clicking on the Inventory tab at the top of the page and then clicking on the present icon at the top of that page. Or follow this link to purchase now.
Social Equity and Community
There are many people in our society who are umable to purchase the items that they would like to use. By collaboratively pooling our resources we enable an equitable sharing community where for the minimal cost of a library membership, everyone can have access to gear that they need and can enjoy.
There are many other benefits that a community space develops including social inclusion, reducing loneliness, increased mental health, as well as learning and teaching new skills through the sharing of knowledge, culture and friendship.
A Win for the Environment
Every item we buy comes with an embodied energy debt so by reducing unnecessary consumption and outsourcing ownership to the community, we can reduce our individual impact as well as our local community's collective carbon footprint by just borrowing what you need, when you need it.
By repairing our gear and extending the usable lifespan of an item we keep it out of landfill and therefore delay the purchase of more consumable items. 
Members Borrowing Terms and Conditions
When joining as a borrowing member either online or in person you will be asked to read, sign and adhear to the Library Membership and Borrowing Terms and Conditions of the Gold Coast Tool LIbrary Inc.
You can read these in full here.
You are also required to read and sign the Liability Waiver document either digitally online, or in person before borrowing from the library.